Encrypted File Sharing with Gigatribe
Gigatribe from Shalsoft allows you to share any type of file with your friends securely. All traffic between users is encrypted with 256 bit Blowfish encryption in a closed network which means only the people you invite into your group will have access to your shared files and folders. You also have the ability to password protect any folders you share on the GigaTribe network. You are not limited to just sharing with people you know and invite. You can look for other individuals who opt to place their profile in the GigaTribe public network directory. You can also request access to other networks of users or "tribes" through the GigaTribe Hub. The tribes are groups of individuals which share a common interest.
you should assume Shalsoft saves records of all files shared over its network. Gigatribe does not withstand forensic examination of the physical device it was used on.
Free users of Gigatribe share directly with their contacts which means your true IP address is visible to the other user. Paid Ultimate users utilize Gigatribe's VPN, routing your traffic first to the Gigatribe VPN server and then to the recipient. You can see the difference s between paid and free versions here. While your traffic is encrypted while in transfer, you should assume Shalsoft saves records of all files shared over its network. Gigatribe does not withstand forensic examination of the physical device it was used on.
You can use your own VPN while using GIgatribe and do not have to rely on the GigaTribe VPN for IP privacy.
The software interface is divided into two windows.
– The left window contains a list of all your contacts: your private network.
– The right window describes the contact you have selected including their profile, shared folders, and private blog
Once you've selected a contact you can browse their shared folders as if you were on your own computer. You can then download any file you want. When launching GigaTribe for the first time the contact list is empty. So the first thing you need to do is to invite your friends to join.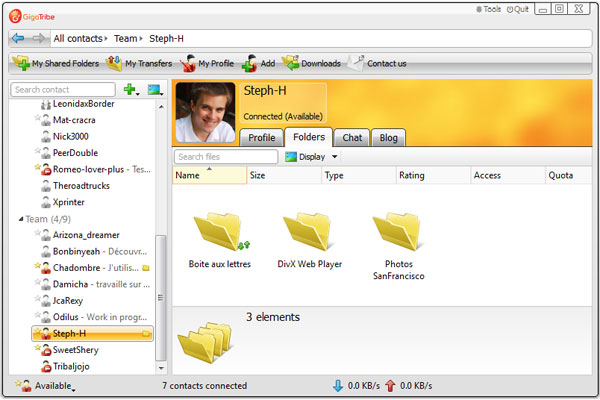 ---
Invite others.
Your friends need to install GigaTribe and create a user name.There are many ways to invite friends to join your private network.
* Find people you know on GigaTribe.
To invite friends who already have a GigaTribe username and send them an invitation request from the software.
* Invite by email.
To invite friends who don't have a GigaTribe username yet, send them an email from the software.
* Find people you know on other networks.
If you have friends on the social networks (facebook, msn,…) send them an invitation through those networks.
* Make new friends who are already using GigaTribe
Join the facebook group: GigaTribe official Facebook community to meet people already using GigaTribe.
OR Launch GigaRoulette to make new friends.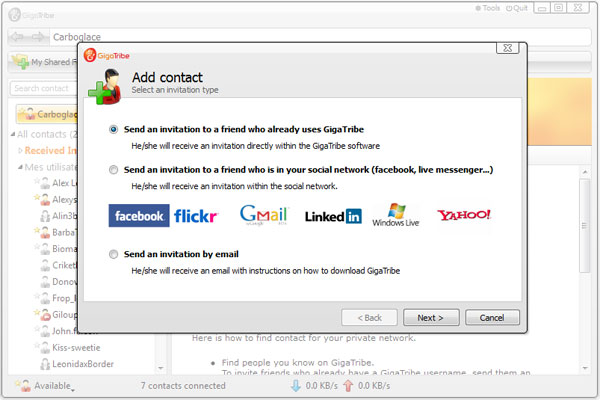 ---
Share your folders.
Select the folders you wish to share with your contacts in your private network. You do not need to copy or upload your files, just 'tag' your local hard drive folders to share them with GigaTribe.
Once you've selected which folders you want to share, the contents of those folders are instantly accessible to your friends. Any addition or modification within the folder will be immediately available to your friends.
For each shared folder you can specify sharing characteristics: The folder description, groups that can access the folder, access mode (read/write), password, etc…
There are no limitations on quantity or file size: even with 1 Terabyte of photos, etc.
Photos and videos are downloaded in their original format.
You let your friends download the files they like but you keep the control.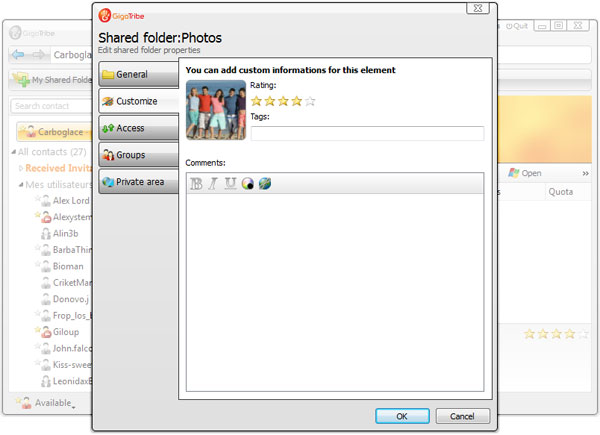 ---
 Start Downloading
You can browse any folder shared by your contacts and download any shared file. If a download is interrupted, the transfer automatically resumes with no loss of data. You can monitor all the files exchanged from the transfer window. You may decide to pause or cancel any download. Since you have a direct and secure access to your friend's hard drive your download speed will be as fast as your friend's upload speed.
With the Ultimate version you will download faster.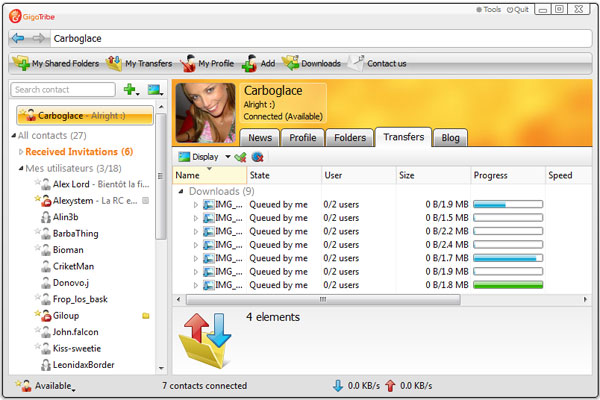 If you are having problems with GigaTribe force closing, go to the installation folder C:\Program Files (x86)\GigaTribe find the Gigatribe.exe file, right click on it go to properties, go to compatibility, check the box Run as administrator.
Download GigaTribe Router Setup
GigaTribe Forensic Guide by Flavio Bernardotti
(361)